This Guest case study was submitted for publication 8/15/13.
It is copyright to Young Min Park, PMP MSPM, 2013.
Published here March 2014
Project Time Management
The estimated duration of the project was 10 years. However, it was completed in 34 months. All detailed time recording included start and completion time of each facility along with their associated milestones were listed in the preface of the "Shiil". The time management records for this project were detailed and accurate. Because of this detail it was likely that this helped the project team reduce the project duration.
Figure 28: Shiil

Translation of extract shown in yellow:

"Year Kapin 7th January Myo si, Start to catch the stone,

25th January, Ground work for the fortress.
28th February Jin si, Groundwork for Jangan mun, Pladal mun, Hwahong mun and Nam sumun.
9th July si, Installed footstone and erect column of Jangan mun. 18th Jin si, Ground work for Jangrakdang.
2nd August Myo si, Ground work for Naknamhun.
7th August Jin si, Installed footstone and erect column of Paldal Mun."
The "Shiil" also tells us many other things, such as:
Wall construction was executed with different crews of teams in four areas simultaneously. The team might consist of members of similar crafts and numbers of laborers. This would create a competitive situation between the teams thus improving both speed and quality.
With readily available labor, fast tracking of the wall construction could be achieved. This would likely be the main reason for the early completion of the project.
The Water Gate construction was difficult due to its construction on the water stream. Hwahongmun gate was constructed as a first trial. The later one, Namsumun, was constructed faster due to a steep learning curve based on the building of the Hwahongmun gate.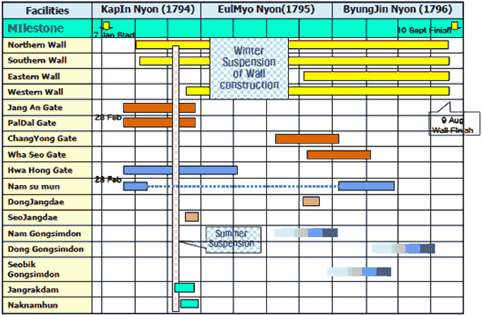 Figure 29: Project schedule derived from the data
---