A Client/Server Project Success Story[1]
In 1992, Project Manager Rob McMurtry, from IBM's local office, initiated IBM's involvement in the critical $5 million Client/Server component of the $160 million '94 Commonwealth Games project The project, held in Victoria, B.C. for the Victoria Commonwealth Games Society, called for the development and delivery of a system designed to provide all Games information in real-time to a wide audience. It also included the head office administration systems which were used in planning this sporting event.
The team that Rob managed consisted of his Victoria-based IBM group, a major games system developer (MSL of Madrid, Spain) and several local contractors who provided valuable development and networking skills. This team was responsible for the integration of technologies that generated "results" for the TV and Radio Rights Holders, the written press, venue spectators, sporting officials, athletes and coaches. It also involved working closely with Seiko's timing and scoring technology and the television broadcasters' video graphics technology.
All the classic constraints were present in the project. The time frame was a fixed opening date of August 18, 1994. The systems must be up and running by that date — and no slippage was possible! Since IBM were also supporting the Games by part-sponsorship of this effort, managing the tight budget was a particularly sensitive issue.
Deliverables included the latest in personal computers, a "LAN"scape consisting of 24 sub-LANs connected to a backbone LAN, as shown in Figure 1, desktop OS/2 WARP software, productivity software, education and support in their use, and application and network support during the games. Intermediate deliverables included network design and implementation, games enabling system development, integration of the "Results Systems", skills transfer to a group of staff and volunteers, and a solid set of contingency plans.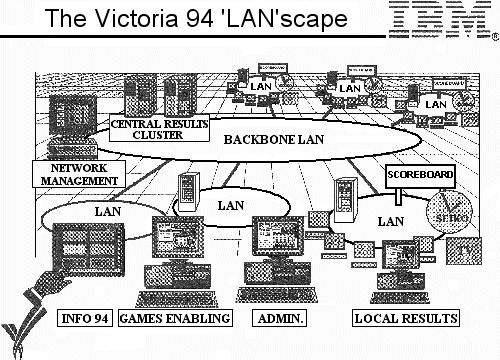 Figure 1: The '94 Games LANscape in Victoria, BC, Canada
As people who watched the Games already know, it consisted of eleven categories taking place at ten venues. There would be some 5,000 athletes, 5,900 support staff, 8,700 volunteers, 3,000 press and 4,500 security, for a total of over 27,000 users of the system! Over a quarter of a million tickets would be sold and a world-wide audience of perhaps 400 million. The Games would also be acclaimed as very successful on all counts.
The stakes (success criteria) of Rob's project were high. It would be a "Showcase" project for IBM. Proven, reliable, sports solutions were required with total coverage through computer integration located at distributed sites. High system reliability was essential with a high level of trust and "partnership" between providers and users. Of course, Rob established all the usual tools of project control like a baseline charter, a work breakdown structure, change controls, quality assurance and testing, Timeline™ planning, asset tracking using Lotus Notes™, financial tracking from both a cost view and gross profit view, regular status reports and project reviews, user system sign-offs, and so on.
Yet to hear Rob tell it, none of these were the areas of most concern. It was the diversity of the people involved. Rob's clients and stakeholders consisted of the Victoria Games Society, the athletes and their coaches from many parts of the world, the judges and officials, the supporting volunteers including co-op students, and other constituents such as government officials having jurisdiction, other sponsors, families of the athletes and, of course, the audience. These stakeholders had different levels of expectations, different levels of understanding and different levels of discipline.
Reflecting back, Rob says that he felt they made the right choice to adopt a small core team in a flat organization structure. They opted for a high level of client involvement (buy-in) and delegated authority and responsibility through "forced" empowerment to everyone regardless of their lack of previous experience. But perhaps the stakeholders that were most underestimated were the TV brigade. Rob says that their actions and way of preparing for these kinds of events are heavily influenced by their "artistic" wants and needs.
In their business, a good last minute idea is often or usually implemented. What he found was a dichotomy between his team's need to stabilize, freeze changes, test thoroughly ... and then deliver. As an observer of how they prepared and delivered the broadcast of the Games he was impressed. It was just that they were not able to cope well with the planning approach necessary in the IT area, and recognize the effects on others of their last minute changes.
With this description, it does not take much imagination to see that the required primary project management skills were not technical or mechanistic – but people and communication skills.
---
1. McMurtry, R.A., The Commonwealth Games - A Client/Server Success Story, a presentation to the inaugural meeting of the PMI Information Systems Specific Interest Group, Vancouver, B.C., January 1995.