Project Evolution
The seeds for building Scotland's first modern day parliament were cast in 1995 concurrent with the thrust to give the country decentralized power. By 1997, the Labor Party rose to power via Tony Blair's election to Prime Minister, defeating the incumbent Conservative Party. This changed the political landscape and gave rise to the view that Scotland would have its own parliament, not just a UK parliament.
So, a referendum of the Scottish electorate, held on 11 September 1997, approved the establishment of a directly elected Scottish Parliament to legislate on most domestic affairs. Following this, the Scottish Office, led by the then Secretary of State for Scotland, Donald Dewar, decided that a new purpose-built facility would be constructed in Edinburgh, to house the Scottish Parliament. Initially, three sites in and around Edinburgh were considered as possible locations for the building.
However, the Holyrood site was not entered into the picture until after the official closure date of the competition between the three sites. The date for announcing the winner over-ran and on the date of the expected announcement instead it was announced that they were going to "rethink their decision" (inferring that indeed a decision had been made) to add the Holyrood Brewery site into the running. Negotiations with the brewing company, Scottish and Newcastle who owned the land, resulted in the company indicating that they would be able to vacate the site in early 1999. As a consequence, the Secretary of State for Scotland agreed that the Holyrood site merited inclusion on the shortlist of proposed locations. The Scottish Office commissioned feasibility studies of the specified areas in late 1997 and in January 1998, the Holyrood site was selected from the shortlist.
The Scottish Office then announced an international competition to find a designer for a new building to house the Parliament. A design committee was appointed under the chairmanship of Dewar, and was tasked with choosing from a shortlist of designs. Proposals were submitted from internationally renowned architects such as Rafael Viñoly, Michael Wilford and Richard Meier. Twelve designs were selected in March 1998, which were whittled down to five by the following May. The five final designs were put on public display throughout Scotland in June 1998. Feedback from the public displays showed that the designs of the Catalan architect Enric Miralles were amongst the most popular. The design team took account of public opinion on the designs and invited all five shortlisted entrants to make presentations on their proposed designs before announcing a winner.
On 6 July 1998, it was declared that the design of Enric Miralles was chosen, See Figure 2, and the work was awarded to EMBT/RMJM (Scotland) Ltd, a Spanish-Scottish joint venture design company, specifically created for the project. Demolition of the brewery commenced in June 1999 followed by construction by Bovis.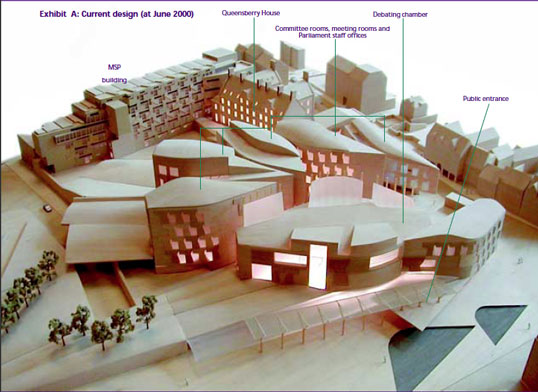 Figure 2: Model of the New Scottish Parliament Building as at June 2000[4]
---
4. UK Auditor General's Report on The new Scottish Parliament building: An examination of the management of the Holyrood project at Holyrood, Scotland, September 2000, p iv