This Guest paper was retrieved for publication with permission, from the greycampus website. It is copyright to Ankit Rastogi © 2018.
Published here June 2019
The Five Principles of Lean
These five Lean principles can be applied to any process to reduce the wastes as shown in Figure 2: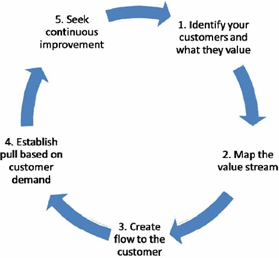 Figure 2: Lean Principles[1]
The five Lean Principles are more fully described as follows:
Define Value: The customer defines the value of a product or service. Hence, the first step is to identify customers. Ask yourself, what does the customer value? Figure out a customer's expectations from your products or services. Classify the process activities into Non-Value added, Value-added and Enabling value added.

Map the Value Stream: The value stream mapping shows the workflow process steps for a product or service. The value stream mapping helps to identify and eliminate the Non-Value-added activities. This eventually helps you to reduce the process delays and thereby improves quality of product/service.

Create Flow: Create flow to the customer by ensuring a continuous flow system in producing your product or service. Flow will optimize the process to maximize process efficiency.

Establish Pull: Establish a pull approach by meeting a system beat time. The beat time is the rate at which a product must be ready to meet the customer demand. Just in time (JIT) is a tool that boosts a Pull system. This ensures smooth workflow of the process without any disruptions. It also helps to diminish your inventory level.

Seek Continuous Improvement: Finally, you must put in consistent efforts to improve the existing business processes, to cater for ever-changing customer needs. This ensures the elimination of waste, defects-free products, and quality service to your customers.

---
1. Image Source: https://blogs.mtu.edu/improvement/2014/01/08/back-to-the-basics-5-principles-of-lean/