Conclusion
When projects are labeled as "IT" projects, Senior Managers and Business Professionals are absolved of their responsibilities in the project lifecycle. It becomes IT's responsibility to make it work. As I've shown above, it's not possible for IT to make projects successful in the absence of proper participation and support from Senior Managers and Business Professionals.
Every software-related project encompasses Strategic, Tactical, and Technical considerations:
Senior Managers understand the Strategic considerations
Business Professionals understand the Tactical considerations
Technology Professionals understand the Technical considerations
Each of the three groups has information that is critical to project success and is also exclusive to them because of their particular roles within the organization and areas of expertise. Without effective collaboration between all three groups projects have little to no chance for success.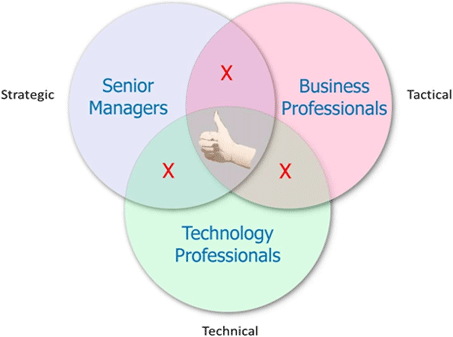 Figure 5 - The Project Triad
---