Management by Methods
At Level 2, the Lowest Static Baseline is the requirements baseline, illustrated in Figure 4. These projects are referred to in the DBM as construction. For construction projects, the art and science of project management is in selecting and manipulating alternative design approaches to implement the requirements with optimal efficiency; i.e., the design is a dynamic baseline. The corresponding project management behavior appropriate to a Level 2 environment is MBM.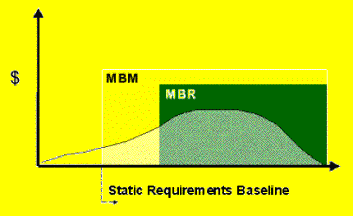 Figure 4: Static Requirements Baseline
The Project:
A typical MBM application would be an "implement the requirement" scenario having a tangible product, evolving design, stable technology, and low integration. In fact, the requirements of an MBM project are generally sufficiently stable that the tendering process is often used to position the implementation with a contractor. The project management organizational structure would be a dedicated or "projectized" organization.
The People:
The ideal MBM behavior features a high aptitude for the mastery of tools. The career long MBM practitioner would be a Myers Briggs ISTP (Introverted/ Sensing/Thinking/Perceptive) or "Grafter," representing approximately 10% of the population.
The project management training syllabus for MBM includes subjects such as:
Configuration management
Contingency
Desk books
Earned value management
Matrix management
Pareto diagram
Procurement template
Requirements assignment matrix
Resource leveling
Statement of work
Risk management
Systems engineering framework
Software tools (MS Project, Primavera)
Trend analysis, regression
Work Breakdown Structure
---