What We Liked
Schwalbe - An Introduction to Project Management
This book provides very thorough coverage of the subject at an entry level, especially for members of a project team up to and including junior project managers. It is easy to read and is thoroughly illustrated by diagrams, sketches, charts, software screen shots, examples of document templates, and worked examples. To relieve the burden of learning, occasional Dilbert cartoons are included to add humor and illustrate a point.
As might be expected from the chapter structure, the content follows the well-trodden path of project management as represented by PMI's PMBOK® Guide and as generally promulgated by PMI. However, it is explicit and much easier to understand. Moreover, while the first two chapters are essentially the "what-is" of project management, all subsequent chapters are definitely about "how-to". As a training handbook, this is as it should be - and makes it significantly different from the PMBOK® Guide which is a "what-is" document throughout its text.
As Kathy says: "The PMBOK® Guide is a standard that describes best practices for what should be done to manage a project. A methodology describes how things should be done."[8] So we were particularly gratified to see that Chapter 3, Initiating Projects, recommends starting out with a Business Case to justify investment[9] and that a Project Charter comes later to authorize commitment of resources for creating the product.[10]
Each chapter opens with a case study example of the ensuing chapter contents and closes with outcomes of the same case study to further illustrate the chapter's content. Each chapter also concludes with a Chapter Summary, a multiple-choice Quick Quiz, Discussion Questions, Exercises, Team Projects, relevant information on the companion web site (you need to login), a list of Key Terms used in the chapter, and End Notes listing references. It is all very thorough.
One illustration caught our attention in particular - see Figure 1.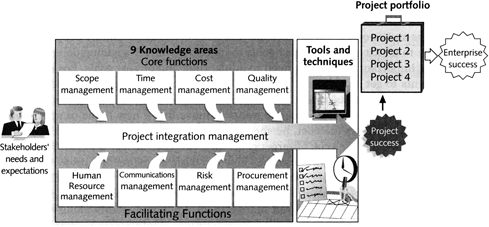 Figure 1: Project management framework[11]
This seems to us to bear a remarkable similarity to the graphic shown in Figure 2 that a group of us developed back in 1990. There is, however, one important exception. Our diagram assembles the project management functions in a logical and practical sequence.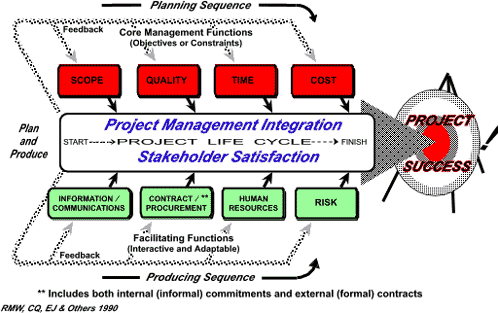 Figure 2: A 1990 model of project management success[12]
Gido - Successful Project Management
Authors Jack Gido and James Clements take a different approach to the structure of their book compared to Kathy Schwalbe. In Successful Project Management, the four chapters of Part 1 describe the contents of a very commendable four-phase "generic" project life span shown in Figure 3. Aside from a rather unrealistically shaped effort curve, the phase labels are more practical than those used in PMI's PMBOK® Guide and, as implied by the "Request for Proposal", the project assumes a contractual environment. The four chapters take you through what to expect or what is involved in each phase and, by extension, what you should do but not necessarily in "how-to" terms.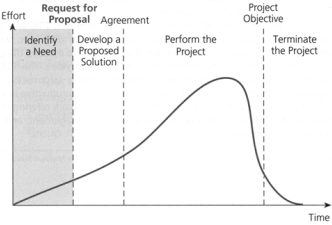 Figure 3: Project Life Cycle[13]
Parts 2 and 3 of the book deal with the so-called "technical" side (i.e. not the project's technology) and "people" side of project management respectively. As our Book Structures page shows, the contained chapters deal with each of these sides based on a series of topic areas that generally follow the topics covered by PMI's PMBOK® Guide. Of the two Parts, Project Planning and Control is by far the larger.
Throughout the book, every chapter is well illustrated by worked examples of charts, diagrams, and screen clips. In addition, every chapter includes not only fabricated case studies but also project write-ups of Real-World Vignettes, followed by a short set of Case Questions for class discussion. All the content is presented as valuable information to be learned. In other words, the reader has to exercise some understanding when presented with a real project. In short, the reader has to think.
The book is full of solid stuff following a well-trodden path. Here and there, there are some semi-humorous pieces such as the following Code of Conduct for Team Meetings attributed to the "New Pig Corporation":[14]
Stick to the topic at hand.
Arrive on time and end on time.
One person talks at a time.
Everyone has the responsibility to participate. Be prepared.
Be frank, honest, and sincere.
Limit sarcastic and cynical remarks to zero.
The overall tone of the meetings will be positive.
Eliminate negativity.
Make criticism constructive.
Pay attention. Seek first to understand, then to be understood.
No gossip.
Ideas belong to the group, not to the individual.
The team speaks with on voice after the decision is made. Leave united.
Reinforce positive behavior.
Keep your cool. If you lose it, you are wrong - no one else.
Successful implementation of this wonderful list of idealistic motherhood would make any project manager proud. Unfortunately, the practical project reality is that when you have assembled a group of project people passionately dedicated to an objective, inevitable conflicts arise that, together with office politics no doubt, disrupt this utopian vision.
---
8. Schwalbe, p75 [p81]
9. Ibid, p85 [p90]
10. Ibid, p89 [98]
11. Ibid, Figure 1-3, p8 [p8]
12. From our personal archives of files when graphics capability was distinctly limited
13. Gido, Figure 2.1, p30
14. Ibid, p383