Downside
Let's be quite transparent — the title of this Book [B] is written in large letters on the cover thus: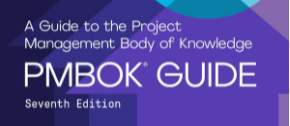 Unfortunately, I argue that the contents of this Book [B] as it stands are nothing of the sort!
I would be inclined to stop right there, but maybe the uninitiated reader deserves at least some further explanation. For the record, I was the initiator of the term "PMBOK" and not surprisingly, this moniker stands for "Project Management Body of Knowledge". It was years later that PMI chose to registered the name with an "®".[24]
A little bit of history
At the 1977 Annual PMI Conference, there was a push to introduce a project management certification program. However, it was not until 1981 that a more determined effort was made by past President Matthew Parry and others to present to the PMI Board of the day a proposal to identify a Body of Knowledge of Project Management. This proposal was to define such a body of knowledge that would establish project management as a unique discipline and eventually as an independent profession. Indeed, a substantial body of identifiable and independent body of knowledge of project management (PMBOK) was necessary for purposes of instruction, examination and certification (i.e., Standards).[25]
A project was started to assemble such a knowledge resource, when it was realized that a terms of reference was required on which to build. It is worth noting the answers that followed, namely:
Objective:

to establish a systematic model/framework/structure for a PMBOK

Purpose:

To organize and classify
To integrate
To correlate
To store and retrieve
To build on what we have

Characteristics:

- Simple
- Logical
- Saleable
- Comprehensive
- Compatible
- Systematic
- Understandable
Based on these criteria, there emerged a consensus that a number of uniquely distinct special skills or performance domains existed. This was hardly surprising because at the time a number of competing organizations were eying the possibility of adding some basic material on project management as a sideline to their existing turf. Consequently, the members of PMI at the time had to tread very carefully to ensure that their selection of content did not obviously tread on anyone else's toes.
This study and development of content resulted in the following body of knowledge content:
The Framework — a discussion of life cycles and the typical activities encountered in each of 4 phases
Scope Management — consisting of 6 elements
Quality Management — consisting of 11 elements
Time Management — consisting of 4 top elements divided into 17 sub-elements
Cost Management — consisting of 4 elements
Risk Management — consisting of 2 elements subdivided into 10 sub-elements
Human Resource Management — consisting of 2 elements divided into 6 sub-elements
Contract/Procurement Management — consisting of 6 elements, and
Communications Management — consisting of 5 elements
Each of these chapters in the original PMBOK document included a Glossary of Terms that is specific to each of their respective domains. A reprint of that document is available from maxwideman.com/PMBOK1987reborn/intro.htm.
It is very important to note here that each of these topics listed is specific to project management alone, but not specific to any particular industry. It is also important to note that each of these topics require specific skill sets resulting in technical "specialties" in each of the performance domains listed.
Since the publication of the original PMBOK document in 1987, only two additional specialties have been added, namely: Project Integration and Stakeholder Management.
---
24. This was done without my permission. When I found out and raised this with the PMI staff at the time, they said it was too late to change.
25. A more complete history may be found in the publication; "Project Management Body of Knowledge (PMBOK) of the Project Management Institute, 1987. It was approved by the PMI Board in March 1987 and published shortly thereafter. See page 0‑1