What We Liked
Chapter 1 starts out with a good discussion of project management "Concepts" in which project, project management, the project manager's role, the hierarchy of project management, organizational structures, and the project life span, are all discussed in very clear terms. For example a project is defined as "basically a unique endeavor that has a beginning and an end."[10] Can't argue with that, but as we all know, it's the bit in the middle that is the problem!
And what a problem it is. The project manager's role is illustrated by the charming graphic shown in Figure 1. Guess we don't yet have an icon to show a cell phone!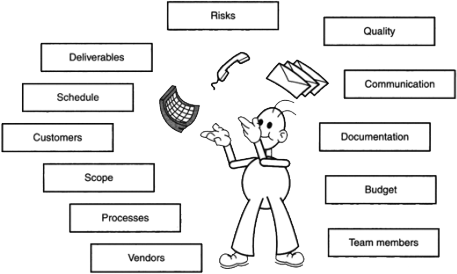 ">
Figure 1: The elements of project management[11]
The hierarchy of project management lists in descending order: organizational strategy, Portfolio, program, and project. While all four are explained, together with PMO (that may stand for anything somewhere in between), the rest of the book covers only the workings of a single project.
The Project Management Life Cycle is well explained as follows:
"The PMBOK® Guide describes five key process groups that govern the work of project management: initiating, planning, executing, monitoring and controlling, and closing. These processes have a natural progression inherent in the work, and they must be used in conjunction with a life cycle that covers the phases of the project. The life cycle you choose should reflect the type of work being performed."[12]
It is nice to see an author who has got it so clear and so right. However, Claudia might have added that the project life span that you do choose should reflect the control needs of the performing organization - especially if project portfolio management is involved.
The project management "technical" content, i.e. examples associated with creating a WBS, estimating, scheduling, risk and so on, are generally illustrated by a project whose preliminary scope objective is described as follows: [13]
"To provide a customer service training class that is faster than today's three-month class. The Measure of Performance for this project is:

Driver: Reduce customer service representative training time by more than 50%
Restriction: Customer complaints do not increase more than 2%

Deliverables:

Current state documentation
Training time reduction approach documentation
Customer service representative training reduced by more than 50%"
The examples and sample templates provided are worked in considerable detail and will be particularly useful for the novice reader.
The case study that we mentioned on the previous page is about a lady named Chris Williams who is suddenly assigned to a critical project by none other than the organization's CEO herself. Of course, the project is large, large enough to encompass all the things that the book needs to illustrate. Chris is new to the organization but she has a long list of lessons learned acquired from the successful management of a lot of smaller projects. Her new project is to manage the launch event of a new subsidiary company's web site and its catalogue product line at a world trade show.[14] Technically, this project is in a different category from her previous IT work, but practically it falls into the same genre as an IT project.
It turns out that Chris Williams is an impossible paragon of project management virtue. As well as planning the project, Chris manages the education and expectations of her boss, and holds regular one-on-one meetings with her various critical project stakeholders. These stakeholders are broken down into Champions, whom you need to get to know personally; Influencers, whom you apparently need to shower with information; and Challengers, whom you need to get to know by seeking them out.[15] Each of these groups also has special communications requirements.[16] In Chapter 7 on Communications we learn that you must also get to know the "Recipients" of your project's product. As Claudia admonishes us: "Just make sure you do your homework and really understand how these people work."[17] That alone could be a full time job.
Of course Chris dutifully holds regular project progress meetings, coaches her team members, and spends time on the detailed workup of required project management tools and techniques. Because of the nature of the project, we find that Chris also has to manage the corporate rumor mill, the solution to which is to make sure "you finish according to the triple constraints."[18]
The project lasts for around nine months,[19] and on important occasions, we learn that Chris gets to the office at 6 a.m.[20] In all, we estimate that Chris must work at least forty-eight hours a day (well, we did say she is an impossible paragon of virtue.) We would not be a bit surprised to learn that Chris was completely burned out by the start of the day at 8 a.m.
In point of fact, the final tradeshow event did not go quite as well as it might have. Still, the CEO seemed to be well pleased because no sooner than Chris had returned to her desk the day after the end of the project, she received the following message:[21]
"Since you've done such a phenomenal job with this launch, let's start talking about your next assignment. Come see me tomorrow afternoon."
Apparently, Chris knew that this is the price you pay for being good at what you do, and perhaps this is a good time to broach the subject of a pay raise? Well, we can genuinely say - you bet it is!
---
10. Ibid, p2
11. Ibid, p4
12. Ibid, p11
13. Ibid p59
14. Ibid, p16
15. Ibid, p93
16. Ibid, p236
17. Ibid, p231. This statement is followed by Table 7.9 that is a five-page general description, pages 231 to 235, and the advice: "Now you really need to get down to the fine details" on p236. This is further elaborated by specific details shown in Table 7.10, pages 237 to 242.
18. Ibid, p415
19. Ibid, p149
20. Ibid, p415
21. Ibid, p456