| | |
| --- | --- |
| | Bruce Hollands has experience in issues management, policy development, outsourcing, strategic consulting and product development and is a government relations and business development specialist with extensive experience in the municipal sector. He is president of Innovative Service Solutions and founding CEO of the Municipal Accountability and Innovation Network (MAIN). Bruce served as vice president at the Federation of Canadian Municipalities and acted as senior advisor to Ottawa Mayor Bob Chiralli and the Canadian Water and Wastewater Association. He can be reached at info@innovativeservicesolutions.ca. Web site: http://www.innovativeservicesolutions.ca/ |
Editor's Note:
This article by Bruce Hollands is concerned with the looming need for water and wastewater infrastructure replacement and upgrading in Canada. It is also about how these major projects will be funded and the need to improve procurement practices by many local governments. It is reproduced here (with permission) because in the world-view, much the same can be said of all public utilities - including roads, rail, transit and bridges - and likely in most developed countries as well. On the flip side, it also represents massive opportunities for engineering and construction service providers worldwide. So, the author might well have labeled this article: "Turning on the Tap"!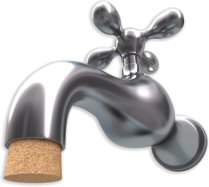 Introduction
In Canada, upwards of $100 billion will be spent on public infrastructure in the coming years, with a significant portion allocated to building and replacing water and sewage lines across the country. Considering the replacement value of the entire system is estimated to be $250 billion, the work that will be taking place is nothing to shrug your shoulders at.
As governments move forward with these projects, billions of tax dollars could be saved through increased use of public-private partnerships, opening up procurement processes and better asset management. Hopefully our elected officials are open to, and direct local bureaucrats to pursue such initiatives. Failing to do so will cost you and I dearly.
---