| | |
| --- | --- |
| | Dr. Ing. Gianluca di Castri, EIE / ICEC.A, DIF - Chair of the International Cost Engineering Council is a Chartered Mechanical Engineer (1972), Master in Business Administration (Bocconi, 1979), Certified Cost Engineer (EIE / ICEC A, 1992). He has a wide professional experience in Total Cost Management as well as in Project Management and Controls for Engineering & Construction Projects. He is a project manager, member of the general management team and latterly a director of international Engineering & Construction Companies. He may be reached at dicastri@gmail.com. His web site is http://www.ideaconsult.it. |
Introduction
Gianluca di Castri's research into planning, scheduling and controlling of long-term projects started in 2005 when he was involved in the project controls team for the construction of the bridge on the Stretto di Messina. The first paper on this idea was presented in 2012 to the ICEC World Congress in Durban, South Africa. In fact, the Stretto di Messina Bridge to connect continental Italy to Sicily was supposed to be among the major projects in the first decade of the 21st century.
Historically, the idea to connect Sicily to continental Italy was first brought forward by the Romans, who were the only ones to build a temporary connection in 251 BC. Subsequently, further studies of feasibility were ordered by the King of Two Sicily's in 1840, then by the Italian Kingdom in 1866, and again by the Italian Republic in 1952, 1955 and 1968.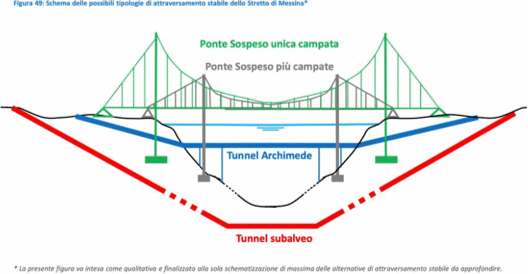 Diagram of the possible typologies of stable crossing of the Strait of Messina [click to enlarge][1]
In more recent times, a project based on a design of a single-span suspension bridge with a central span of 3300m plus road and railway links was contemplated. It was actually awarded in 2005 to a consortium led by the Italian company Impregilo SpA. However, that was also abandoned in March 2006.
In 2005, the budget was about 4 billion euros, while in 2009 the budget was again estimated but to about 6 billion euros. However, the project was finally cancelled again for lack of funding. The main funding challenge, at that time, was the estimated life cycle costs and revenues for a time span of 60 years and how to keep those under control.
---
1. italianostra.org/foto-giorno/ponte-sullo-stretto-sprecheremo-altri-soldi/