Overview of the Quality Models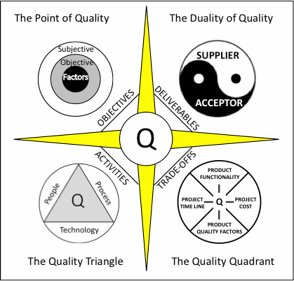 The project model developed in part one expanded the classic triple constraint by replacing Scope with the fundamental elements of Objectives, Deliverables, and Activities. A new element, Trade-offs, was added. I am now proposing four quality models that contribute to the completeness and correctness of each of these elements.
These simple quality models have a pleasing arithmetic progression:
The Point of Quality (the establishment of Objectives)
The Duality of Quality (balancing the Deliverables)
The Quality Triangle (the efficiency of Activities)
The Quality Quadrant (the effectiveness of Trade-offs).
My contention is that projects implementing these four simple models are truly demonstrating project quality and have the best possible chance of delivering a quality product.
---