Project Management Institute in the Past
A Promotional Folder Resurrected
I have discovered, with personal misgivings, that sooner or later as you grow older, you can no longer handle the independence you once had. Like your own home in a house or apartment with or without a family, but at least master of your own destiny. It was a time when you tended to collect a lot of personal belongings, for hobbies, for fun, for satisfaction, and even the tools required to earn a living and general survival.
But no longer, for one reason or other, you have to move — somewhere less demanding, perhaps somewhere less expensive or at least somewhere less demanding in an effort required to maintain your place. It is known as "down-sizing". It's a terrible project you have to undertake and, if you survive for long enough, you may find you have to do it more than once. For those not familiar with the exercise, let me explain.
Down-sizing means going through all of your belongings ranging from cars, to furniture, to clothing, but worst of all, all your books, documents, records, papers, treasured letters and mementos. It means a really thorough review and drastic action to segregate the absolutely-must keep from the would-very-much-like-to-keep. As for the rest, don't even look, just toss.
But then, in my execution of this exercise, I came across a little bit of PMI history that only a few will remember. It goes back to the days, 1985 in fact, when the president of PMI was chosen from one of its members, based on their background knowledge of real project management, and their obvious capability in managing meetings. However, we did have a paid office manager who was central in organizing the annual seminar-symposium, the main activity of PMI in the year.
So, for your remembrance (or enlightenment, depending on when you joined PMI,) I am happy to reproduce the four sides of a promotional letter-sized single-pocket folder of the day. This was a very useful and inexpensive item for conveying all the promotional material provided with your ticket on arrival at the early conferences. It enabled you to work quietly though all the conference stuff when you have time. Or, maybe I should have said: IF you have time!
So, here they are. The images are self-explanatory (click to enlarge).
Front side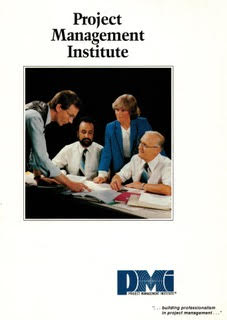 Page 2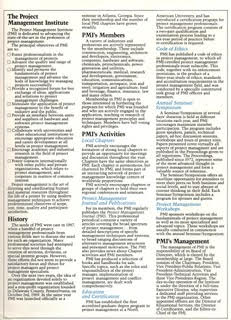 Page 3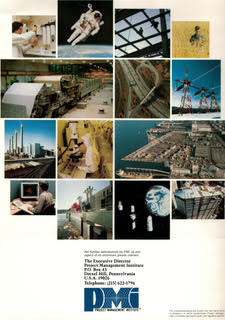 Back side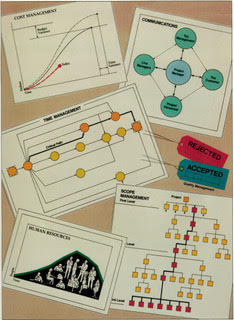 In my humble view, in its day it was the most masterful representation of what project management is really all about. Oh, and yes, that is me arguing with the instructor.
R. Max Wideman
Fellow PMI
---